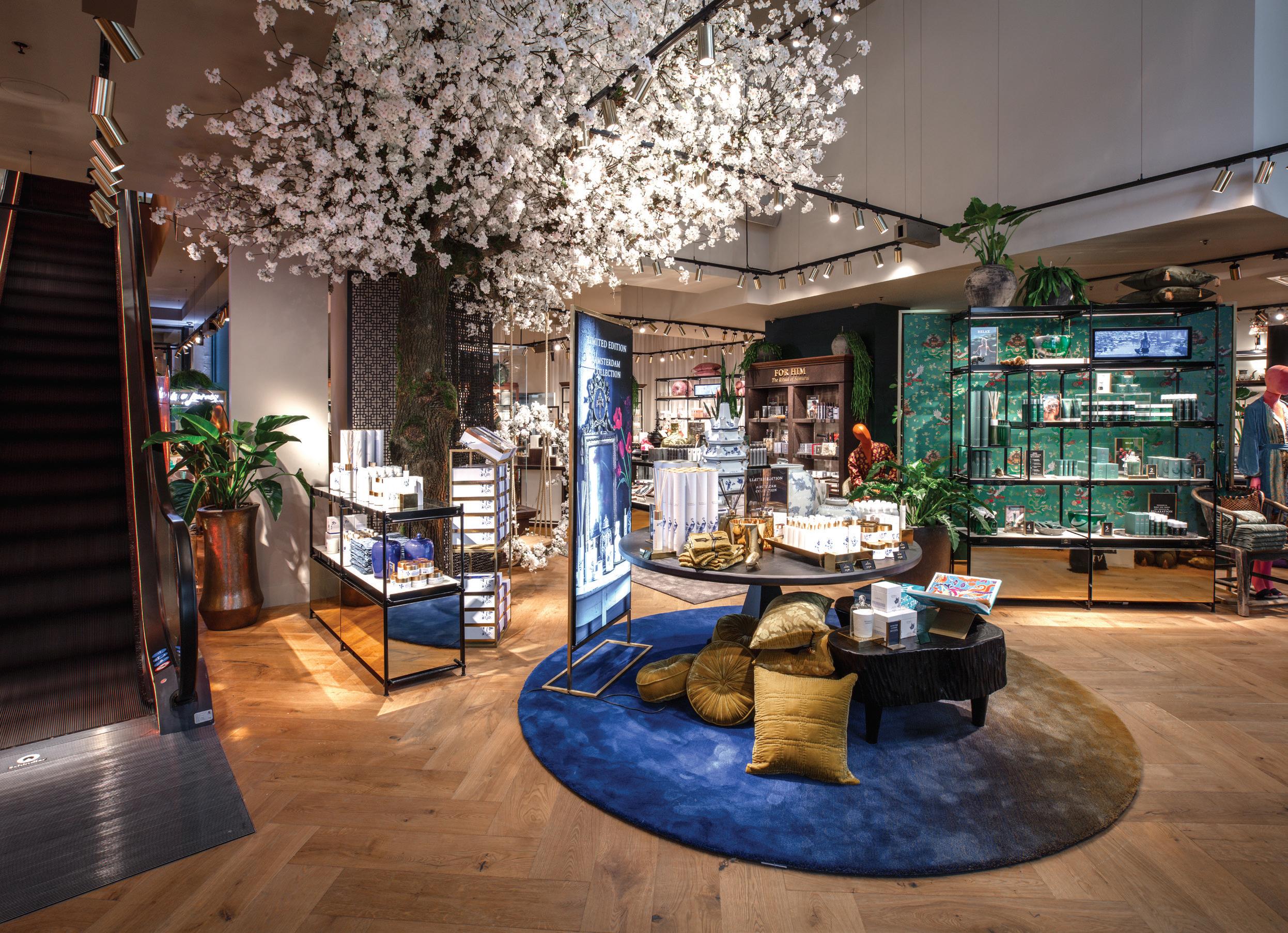 Rituals Cosmetics began its journey in 2000. The founder of the company Raymond Klosterman from the Netherlands wanted to emphasize home comfort and rituals that usually pass us by as something mundane and unimportant. 
No wonder the phrase "Everything new is well-forgotten old" fits the idea of creating a brand because particularly ancient traditions inspired the creation of Rituals products.
Raymond's vision of a routine is very similar to the Danish philosophy of hygge, which is based on the principles such as minimalism, comfort, and joy. The central concept of the brand is slowing down and enjoying because modern life is very fast-paced, and many people do not notice routine things, although our lives are almost entirely made up of them. Therefore, the ability to recognize, realize, enjoy, and turn ordinary things into rituals is a great skill that Rituals promote.
The Rituals house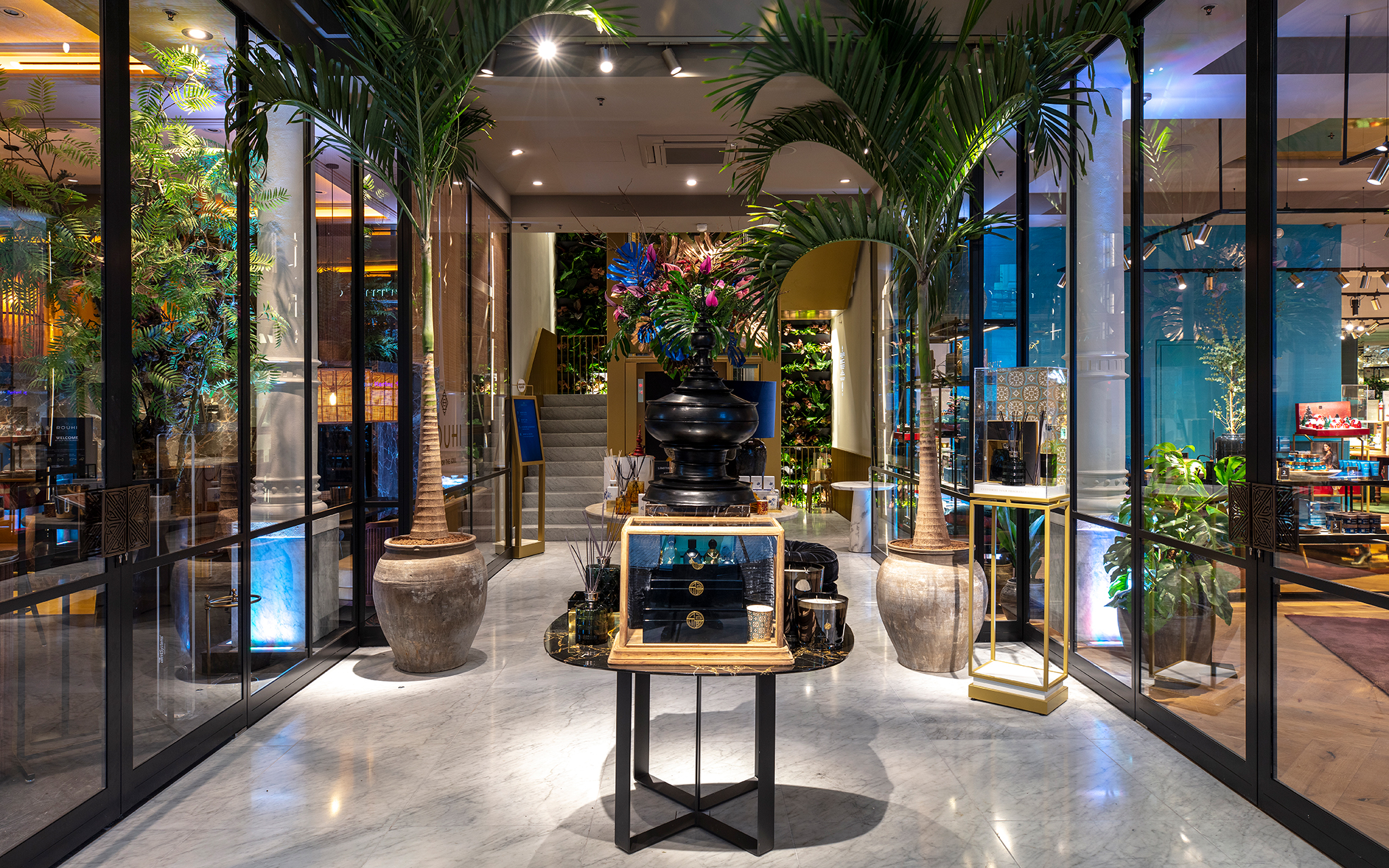 Today you can find many images of the Rituals house, all of which look incredibly stylish and beautiful. But the story of the brand began with a small startup in a shop on the ground floor of a historic building in Amsterdam with a magnificent view of the canal. 
Could Raymond Klosterman have realized then that in a few years, more and more people would fall in love with his brand's products every day? Today, Rituals is a world-famous brand that is running on all cylinders and captivating more and more hearts. 
The ideology developed by Rituals has conquered the modern world. Incredible cosmetics and home accessories, which have a history of ancient cultures and contain mostly natural ingredients, help to turn ordinary things into something incredible.
Have you ever thought that taking an ordinary shower can be turned into something extraordinary? This stage of the routine is quite underestimated because it is the morning shower that sets the vector for your day. Getting a charge of incredible mood with The Rituals of Mehr line, which radiates the freshness and vigor of sunny orange and cedar, allowing yourself to devote this time exclusively to yourself is an incredible start to the day!
While the evening bath will help you relax and tune in to a calm and extremely pleasant sleep. The Rituals of Jing - with gentle, tea notes and The Rituals of Hammam, which will purify your body and mind by turning an ordinary bathroom into a Turkish bath with its fragrance, will help you with this.
The best of Rituals cosmetics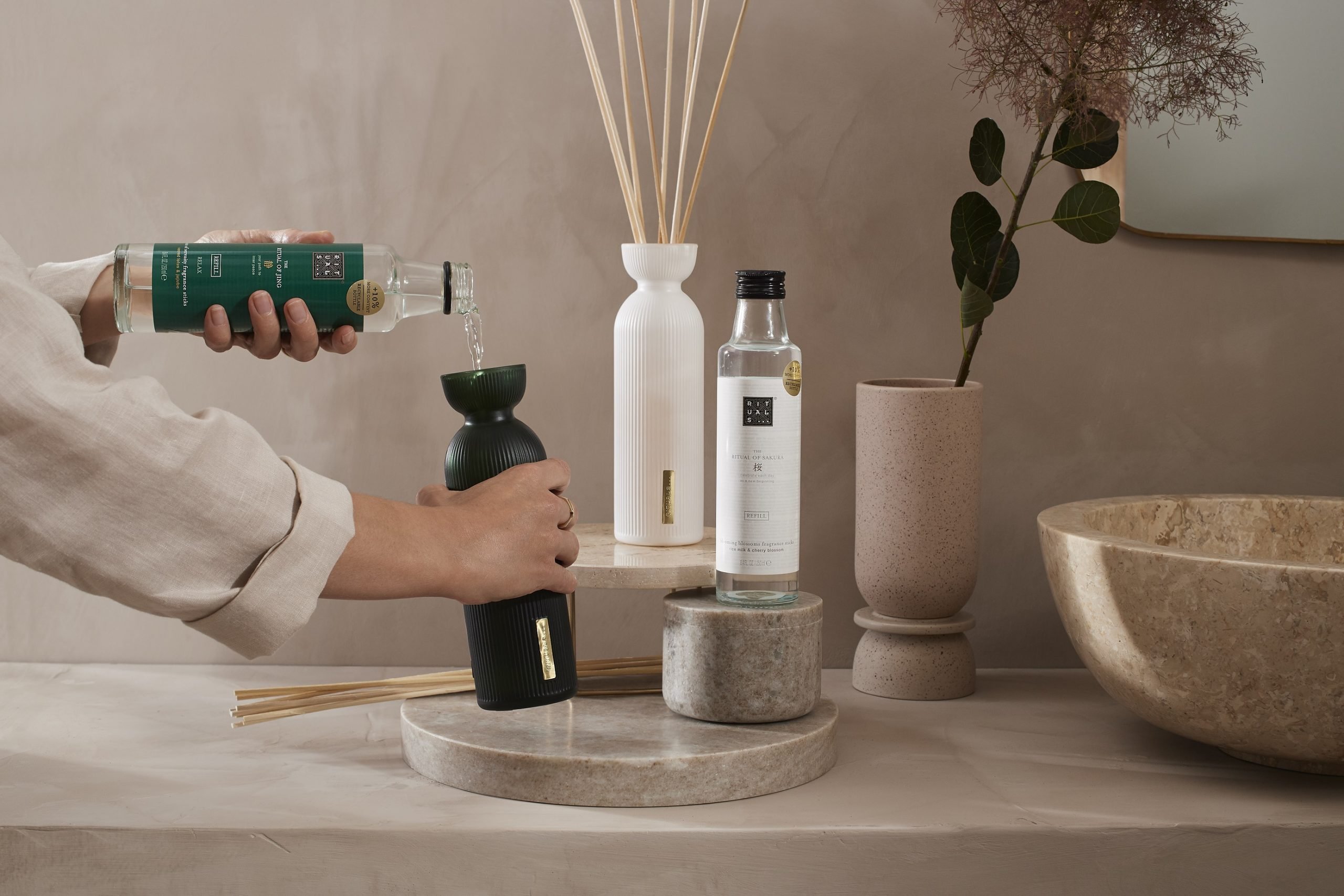 One of the best offers of Rituals is the sets because you can not only save money on the purchase of cosmetics from this brand but also try different categories of products for yourself and choose the ones you like best.
The categories of Rituals cosmetics include
body and face creams

shower gel foams

scrubs

deodorants

peelings

hair conditioners

shampoos

soaps

oils for hair and body

perfumed and care sprays

peelings

balms

lotions
Products for comfort include
scented candles

aroma diffusers

perfumed sprays

perfumed fabric softeners

car flavors
In this article, we will tell you about the most popular lines of the Rituals brand, the stories behind the perfume compositions, and the selection of ingredients, and help you find the tradition you will fall in love with! 

Inspired by the Japanese holiday - Hanami. It is dedicated to admiring the sakura flowers, which, unfortunately, lasts from 5 to 10 days and is very dependent on the weather. The Japanese identify the short-lived cherry blossom with the transience of human life, which is why you need to be able to slow down, stop and enjoy the moment. The delicate, filigree perfume composition of the set, and velvety textures, really make daily procedures rituals that you want to repeat again and again.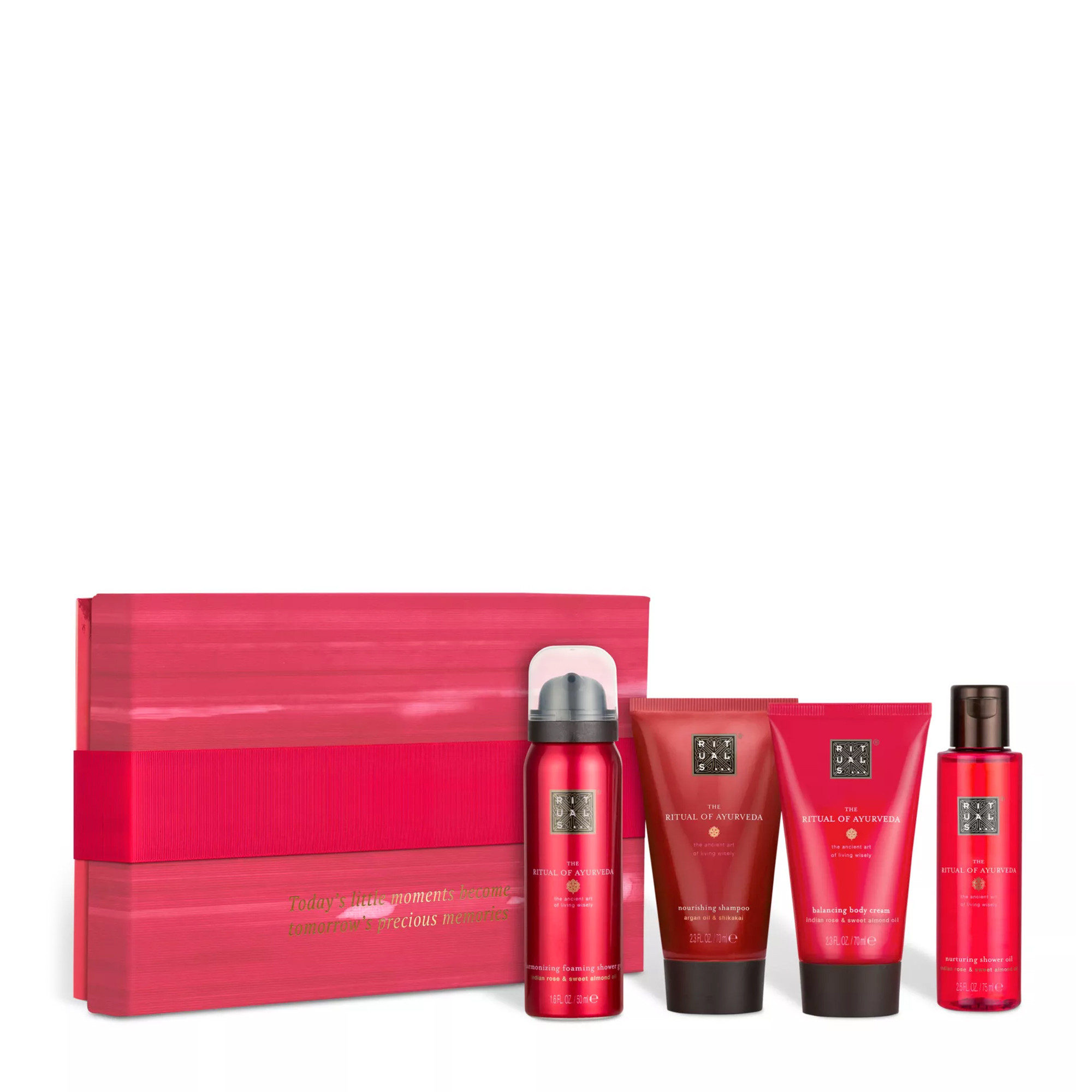 This set is based on ancient Ayurvedic medicine from South Asia. Ayurvedic practices are based on harmony with oneself and with nature, so the line has oriental, slightly tart, expressive aromas of almond and Indian rose that help you find balance and enjoy your routine.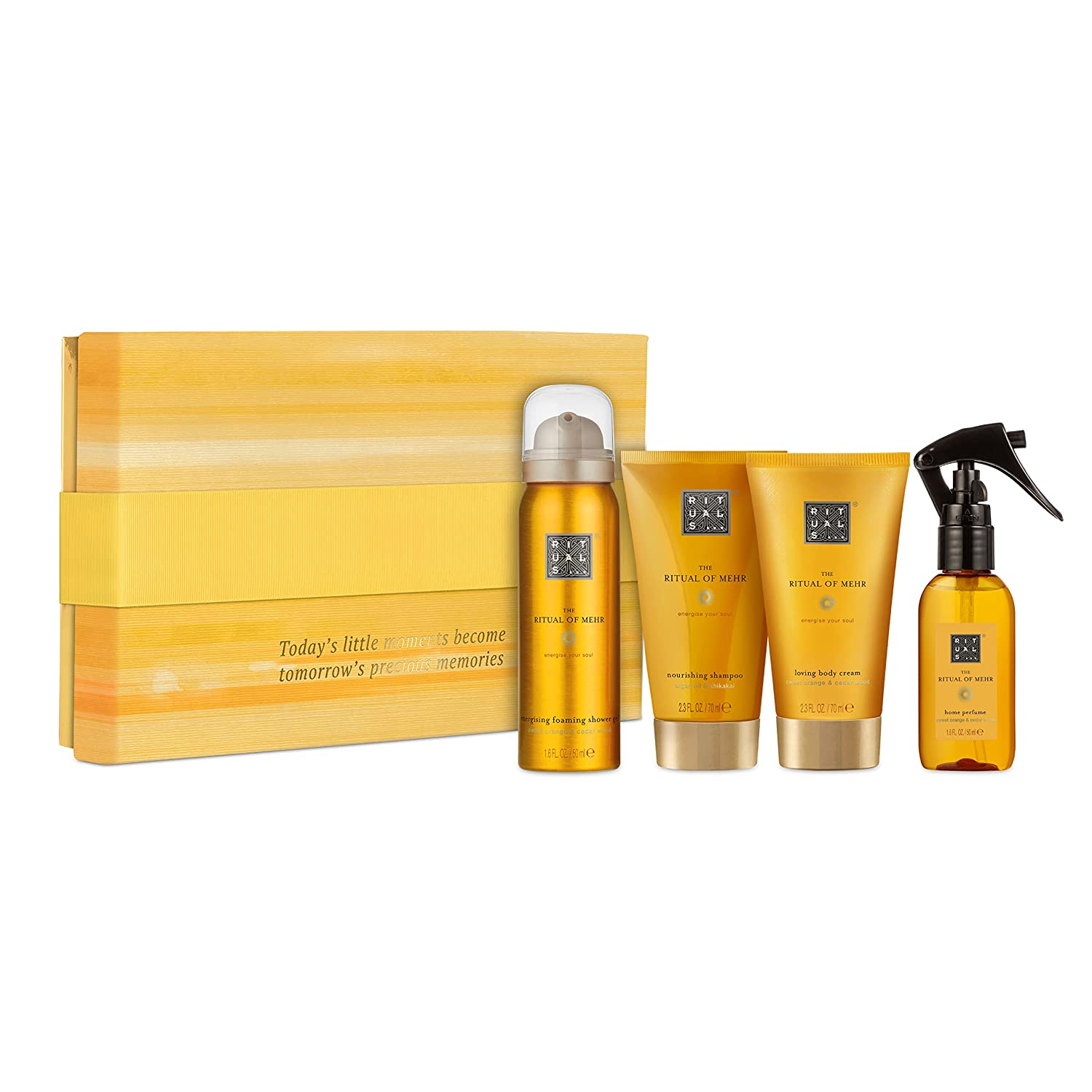 Dedicated to the sun and its energy. In many cultures, the sun is a source of life, inspiration, and joy. That's why the main components of the set are sweet orange, cedar wood oil, and avocado oil, which charge with solar energy and mood.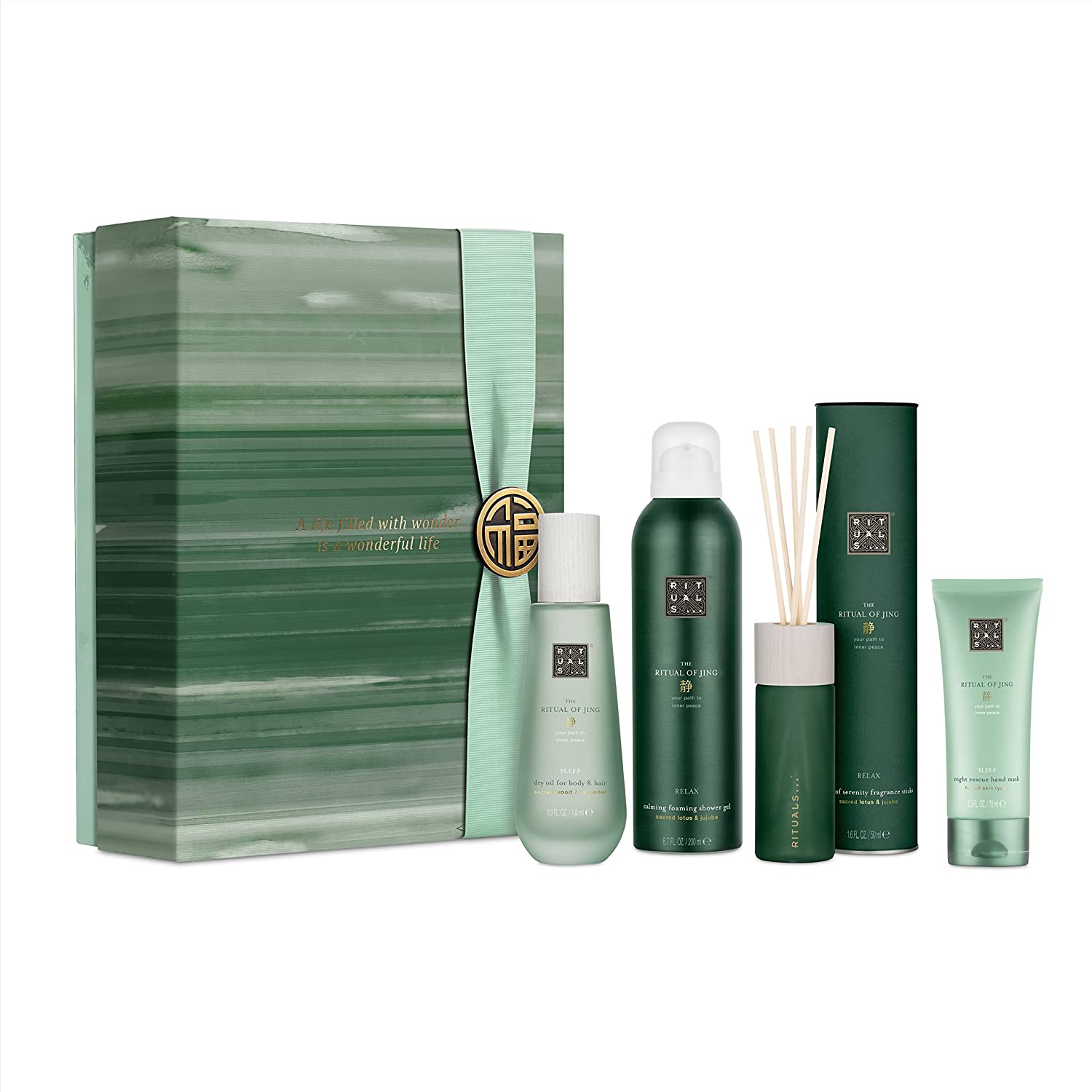 This line also has its origins in ancient traditions. The Chinese philosophy of Jing is based on calm, peace, and quiet, so it's no surprise that this set is based on the sacred lotus and jujube beans inherent in Chinese traditions, which will help you relax and enjoy the tranquility.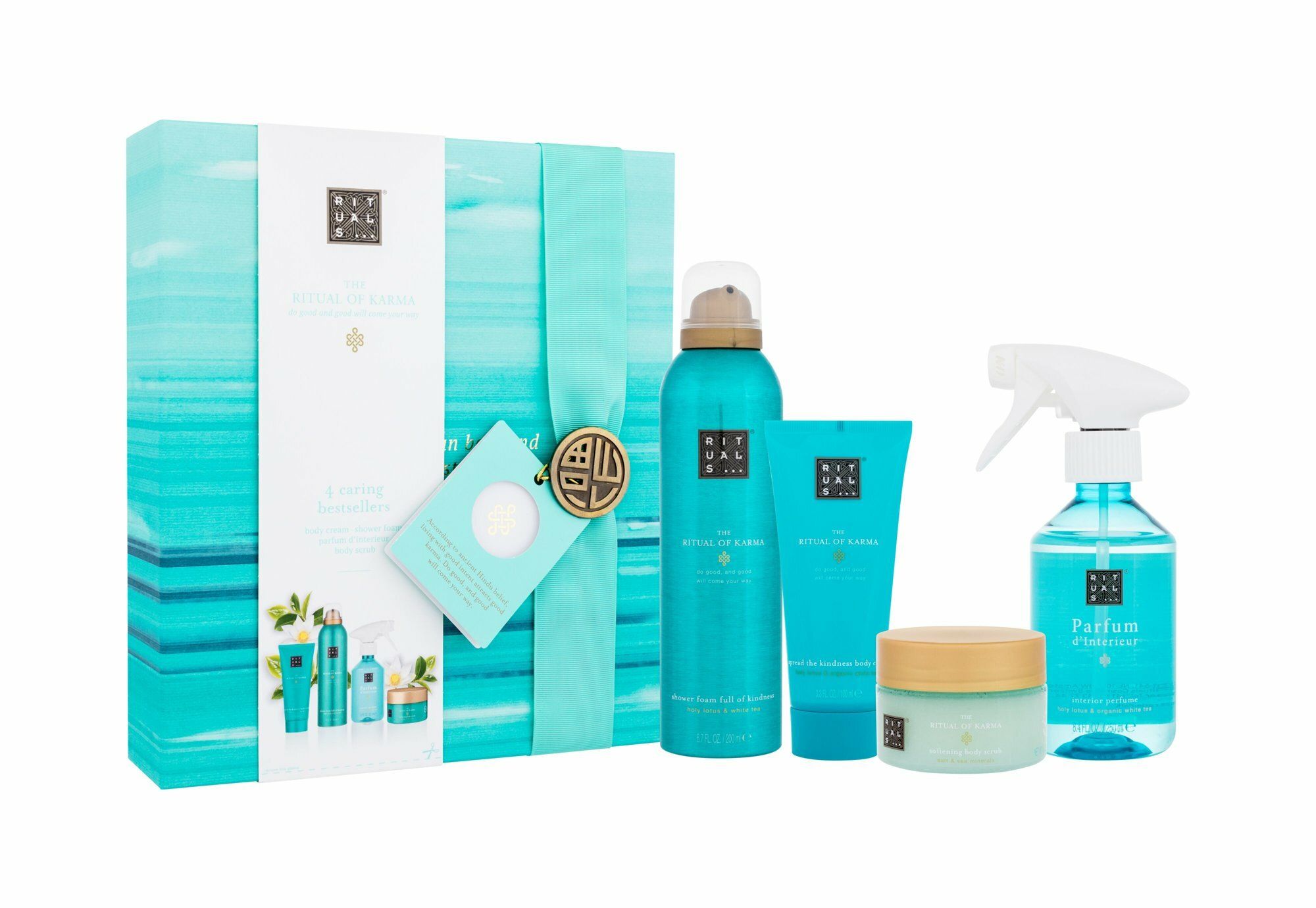 Many people are familiar with the Hindu concept of Karma, which is the foundation of this set, aimed at radiating positivity, vigor, and kindness. The lotus flowers and white tea, which are the main ingredients, will help you to tune in to maintain your karmic energy and help you start the day with a positive attitude.
The Ritual of Namaste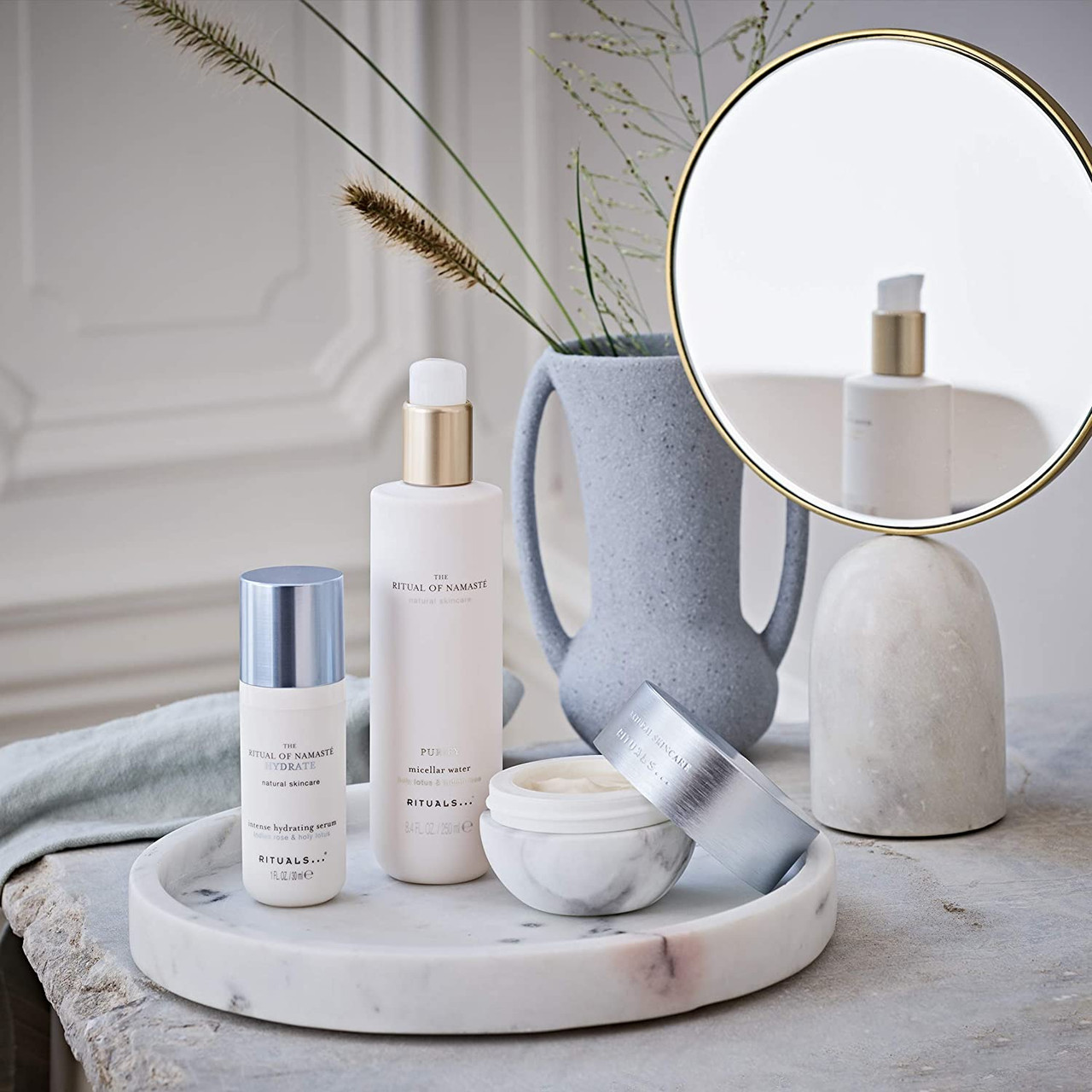 Namaste means "My deity within is greeted and united with the deity within you." This is a traditional greeting that is widespread in India and Nepal, which shows indescribable respect. Inspired by this tradition, the Rituals line of cosmetics encourages a respectful and loving attitude towards yourself and your body, so the ingredients in the lineup help you show your love to your skin. 
The Ritual of Hammam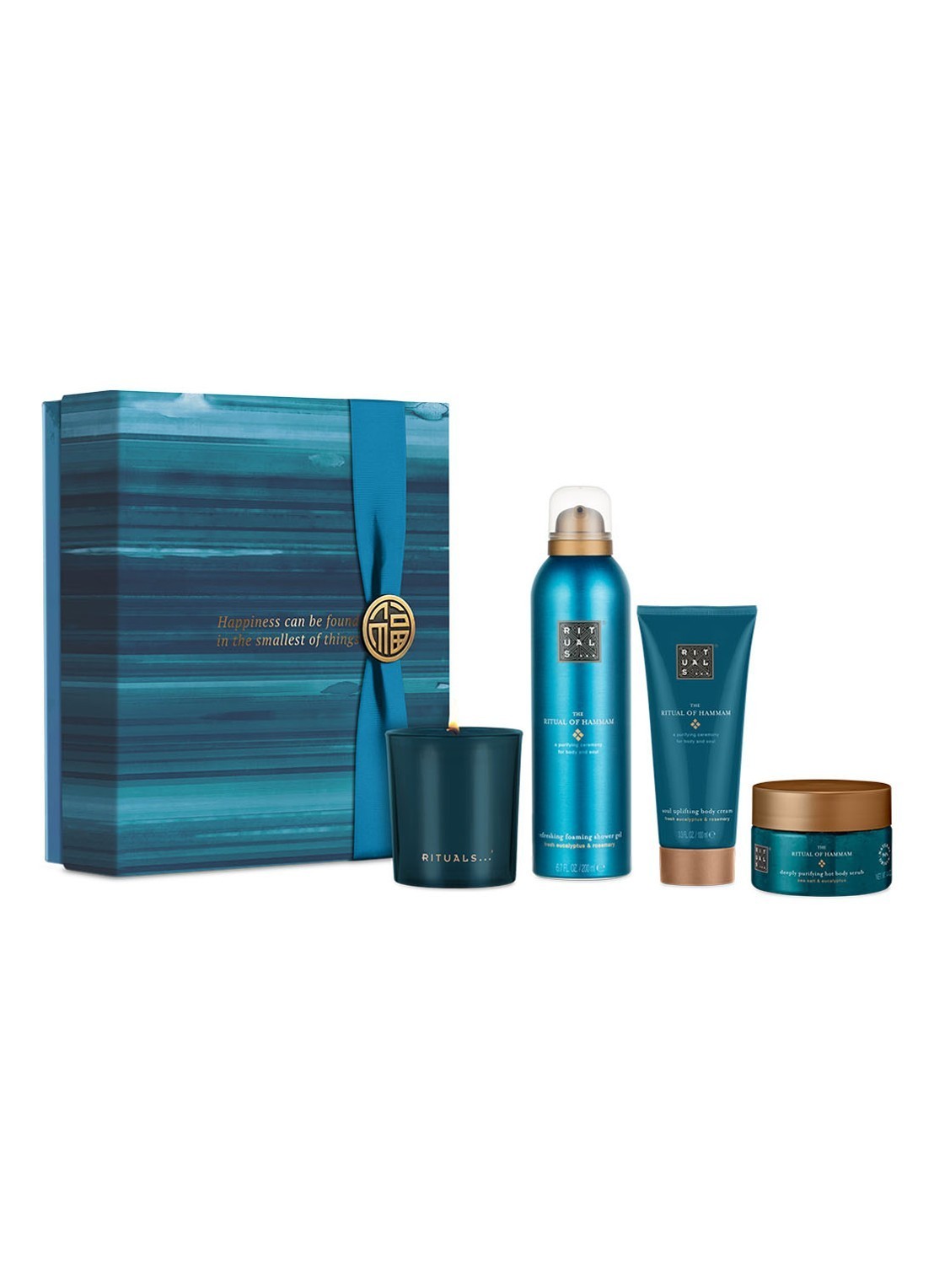 Cosmetics from The Ritual of Hammam line are inspired by the Hammam ritual of the same name, which has its roots in Turkey. Many people are familiar with Turkish baths, but did you know that this is perhaps the oldest ritual of the purification of not only the body but also the soul? It is very important to follow all the stages, from steaming and cleansing to moisturizing. Therefore, in this line, you will find all the necessary cosmetics created using traditional ingredients such as rosemary and eucalyptus, which will take you to the ancient Ottoman Empire.
The Ritual of Samurai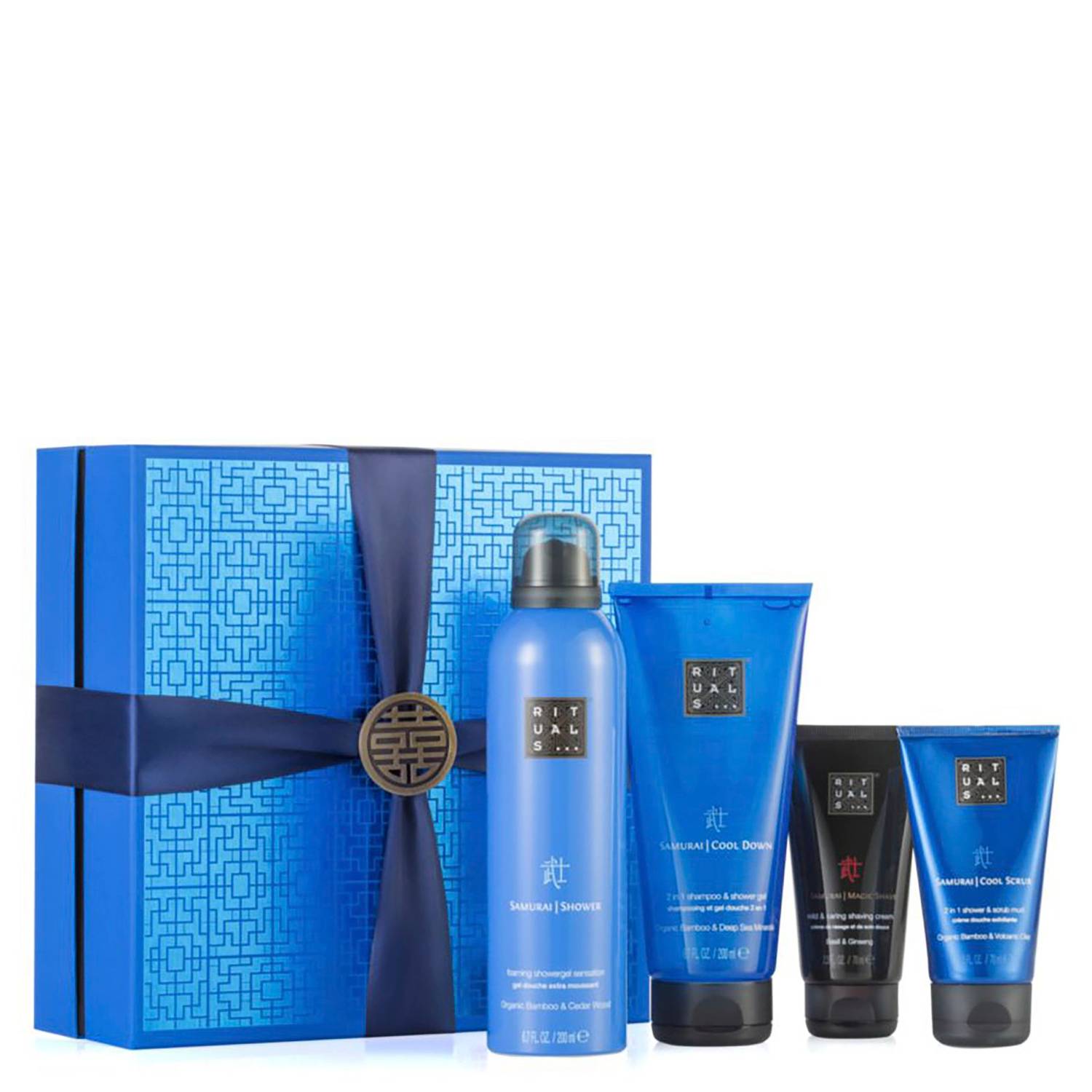 A set for men that has been created with Asian traditions in mind, using cypress for a piney freshness and bamboo to balance the aromatic composition and make it fresh and spicy at the same time.
Rituals for the home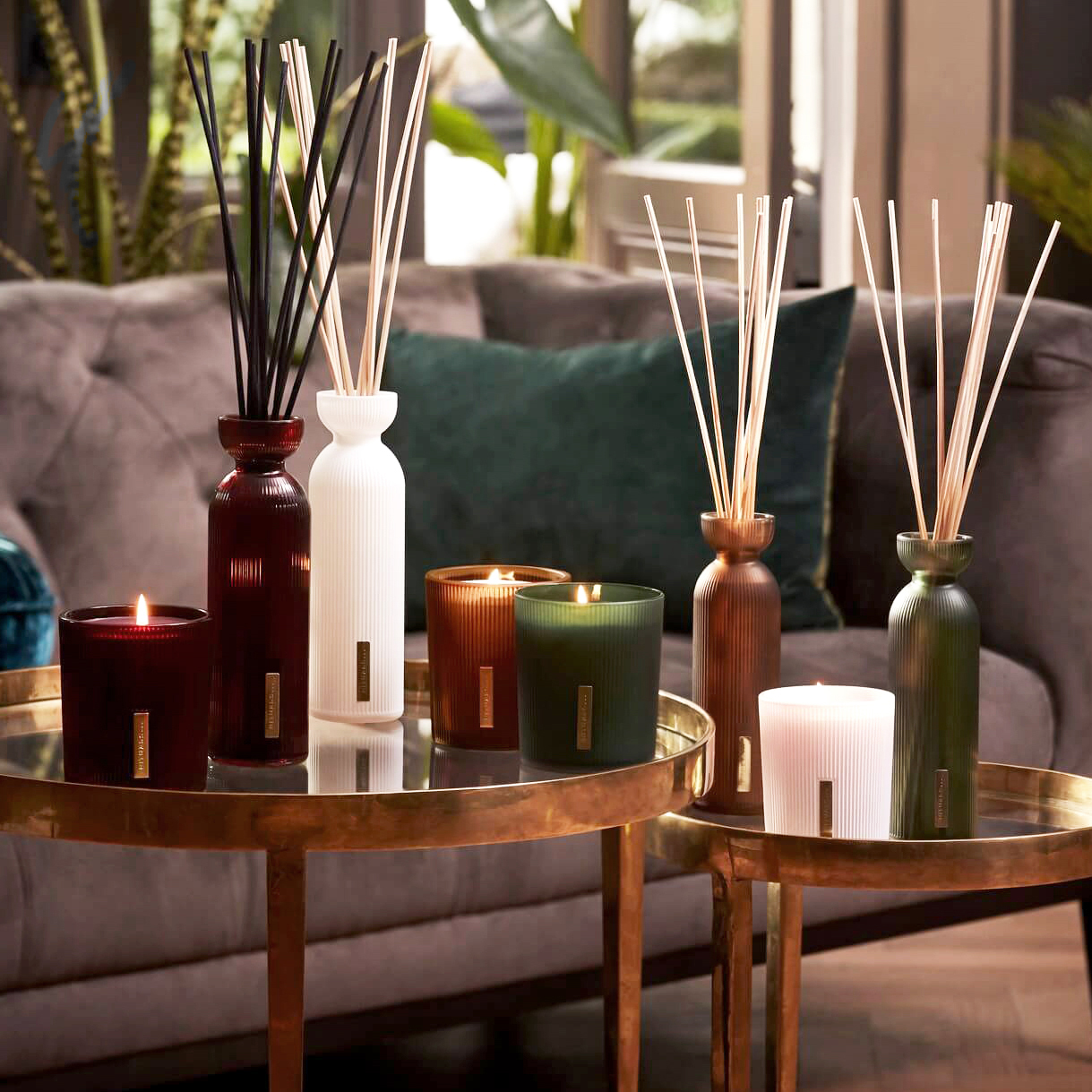 As the foundation and main idea of the brand is calmness, coziness, harmony, and rituals, Rituals has created atmospheric home accessories, because where else but at home do you feel most comfortable? 
Perfumed candles and aroma diffusers with incredible, warm, almost native aromas seem to hug you like a weightless blanket as soon as you enter the house. 
As you know, candles are an attribute of countless traditions of both the ancient world and modern times. The romantic, calm, warm atmosphere of candlelight is enhanced by the delicately selected Rituals fragrances. After trying Rituals Care cosmetics, you will want to surround yourself with these scents everywhere, so home accessories from this brand will come in handy.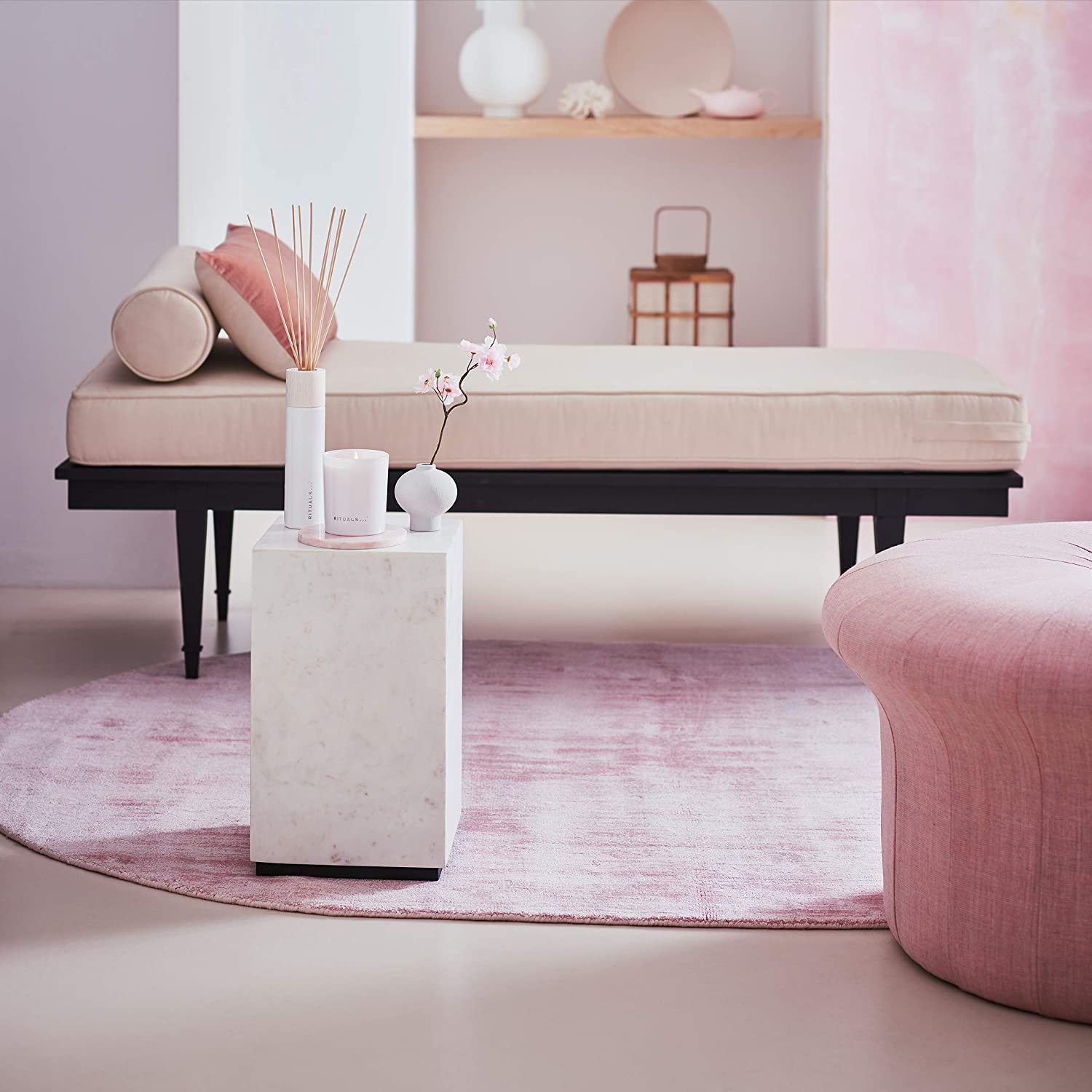 A home aroma diffuser in combination with a candle will fill your home with Japanese motifs created from a combination of cherry blossom and delicate rice scents.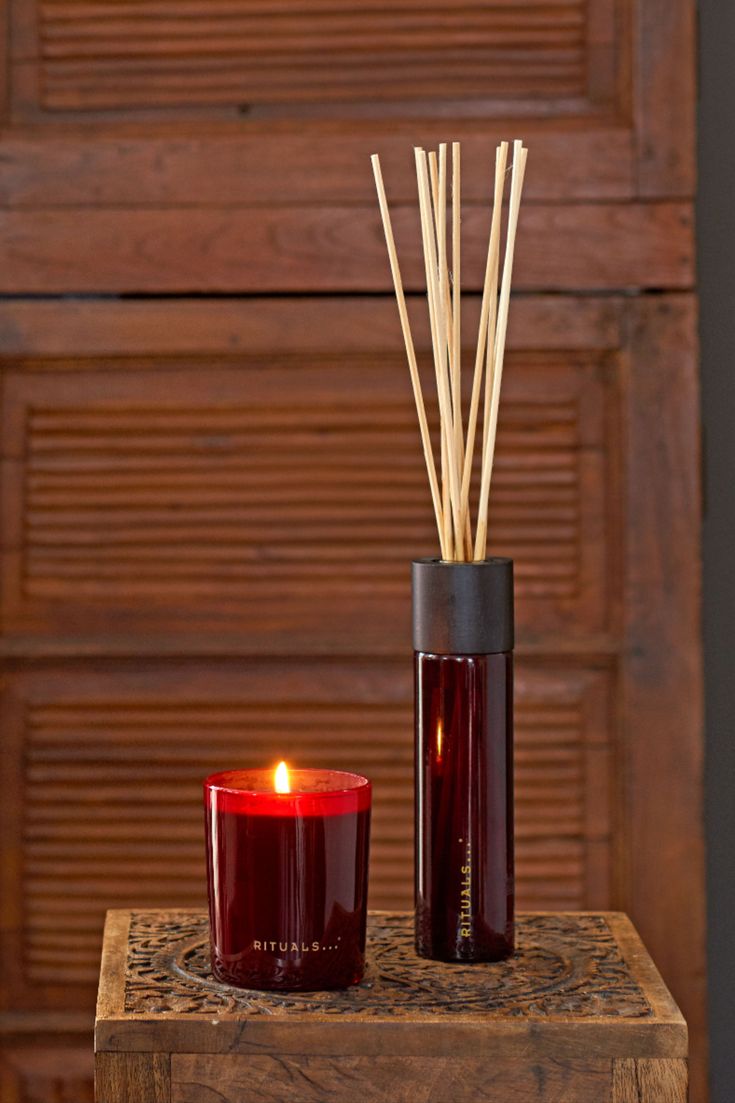 The fragrance will fill your home with the incredible scent of Indian rose and sweet almonds, which will help you to capture inner balance and harmony.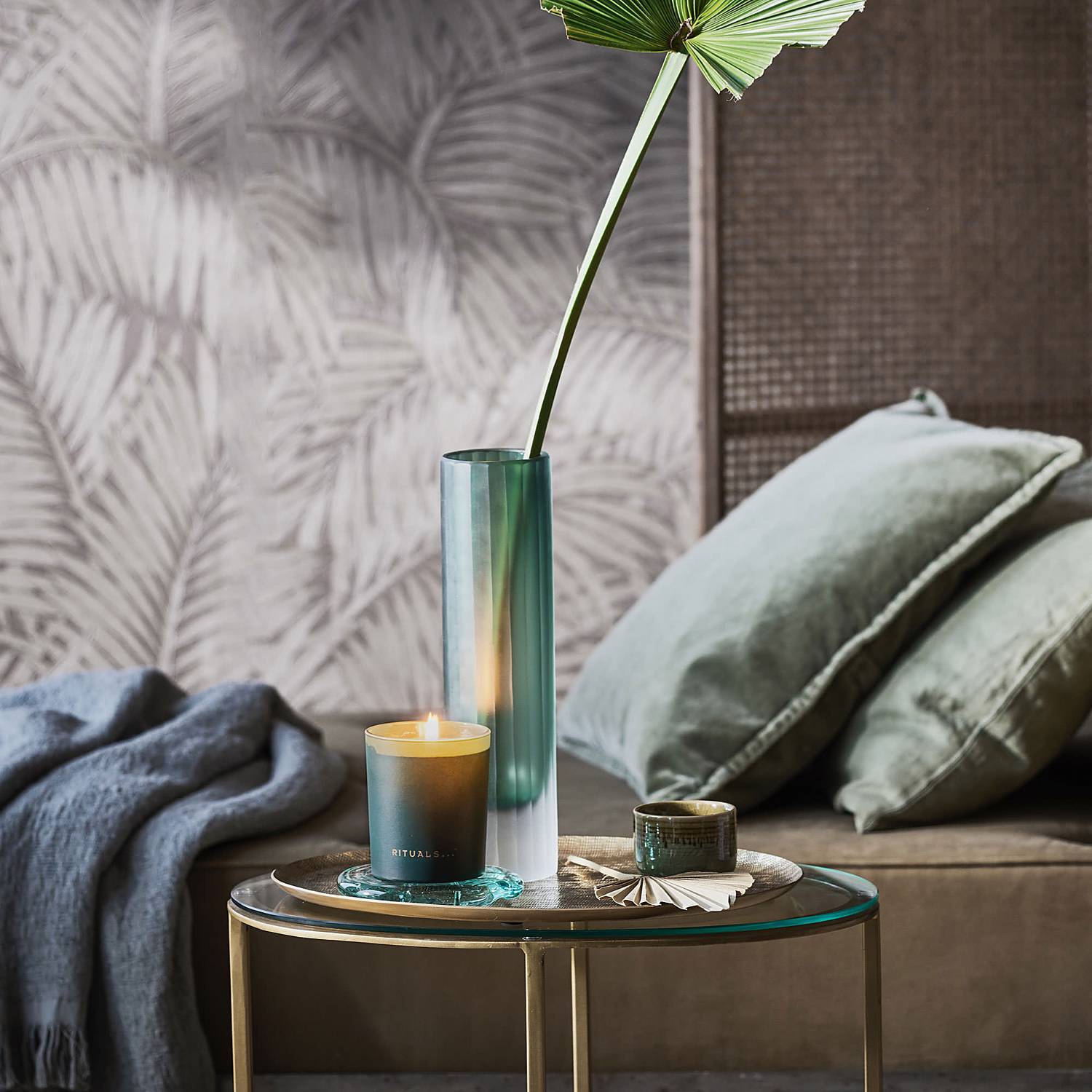 This combination of sacred lotus and Chinese date bean aromas helps you to relax as much as possible, so we recommend using the aromas of The Rituals of Jing series before bed because this line is the most soothing and relaxing for a sweet rest.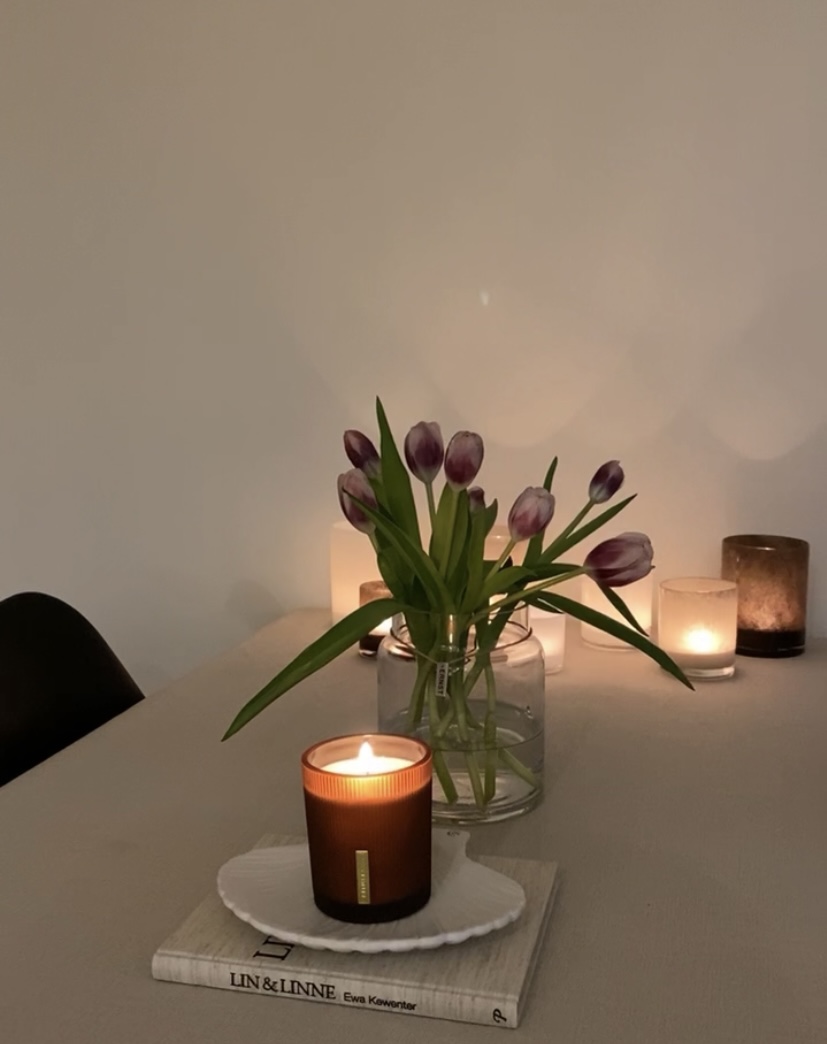 Unlike the previous fragrances, this one will help you recharge your batteries for the whole day. The Ritual of Mehr scent helps to start the day full of energy and in high spirits thanks to the combination of sweet, invigorating orange, spice cocktail, and cedar wood.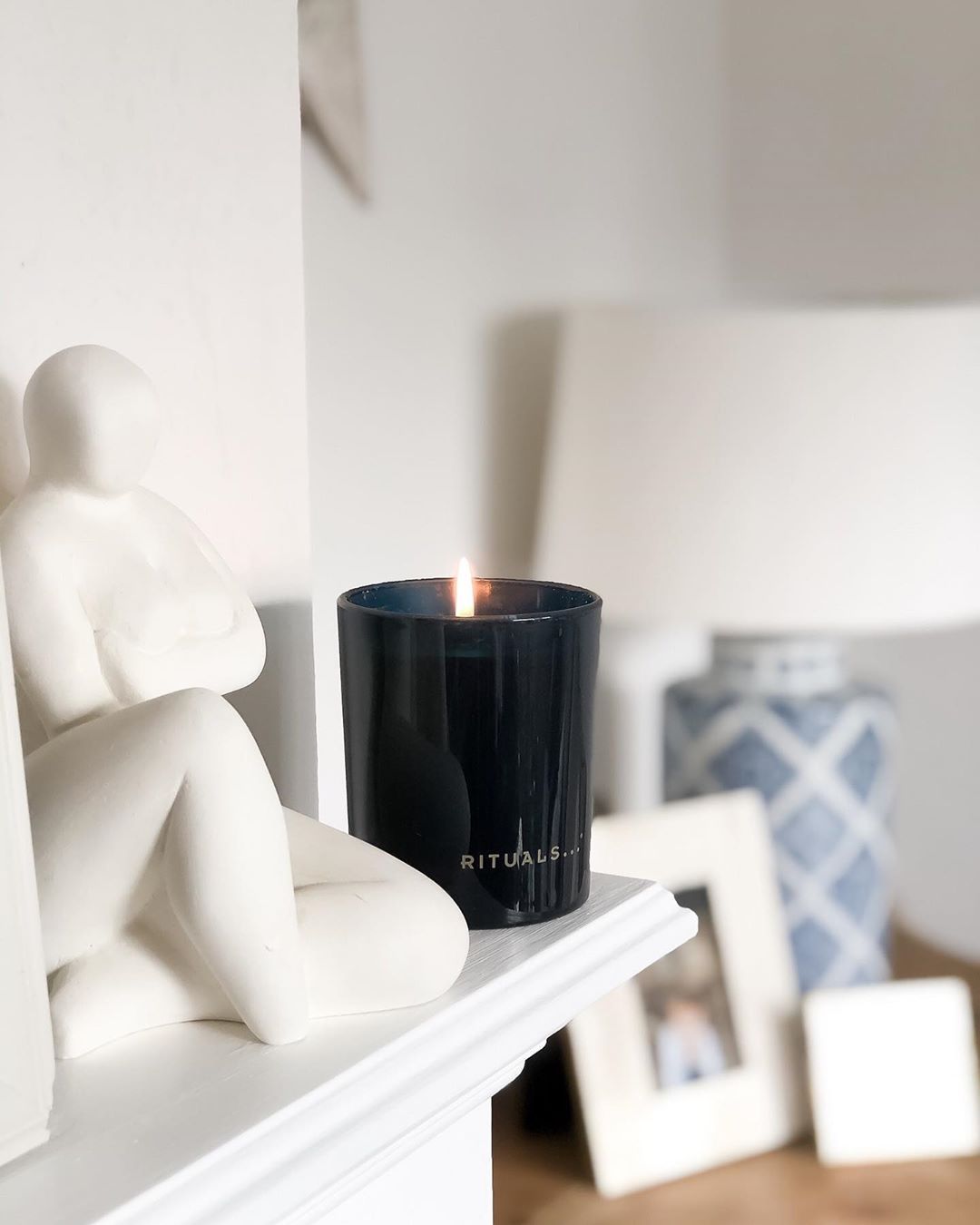 Turn your daily bathing ritual into a real hammam with the combination of eucalyptus and rosemary, which are woven together in the scent of candles and aroma diffusers from The Ritual of Hammam line.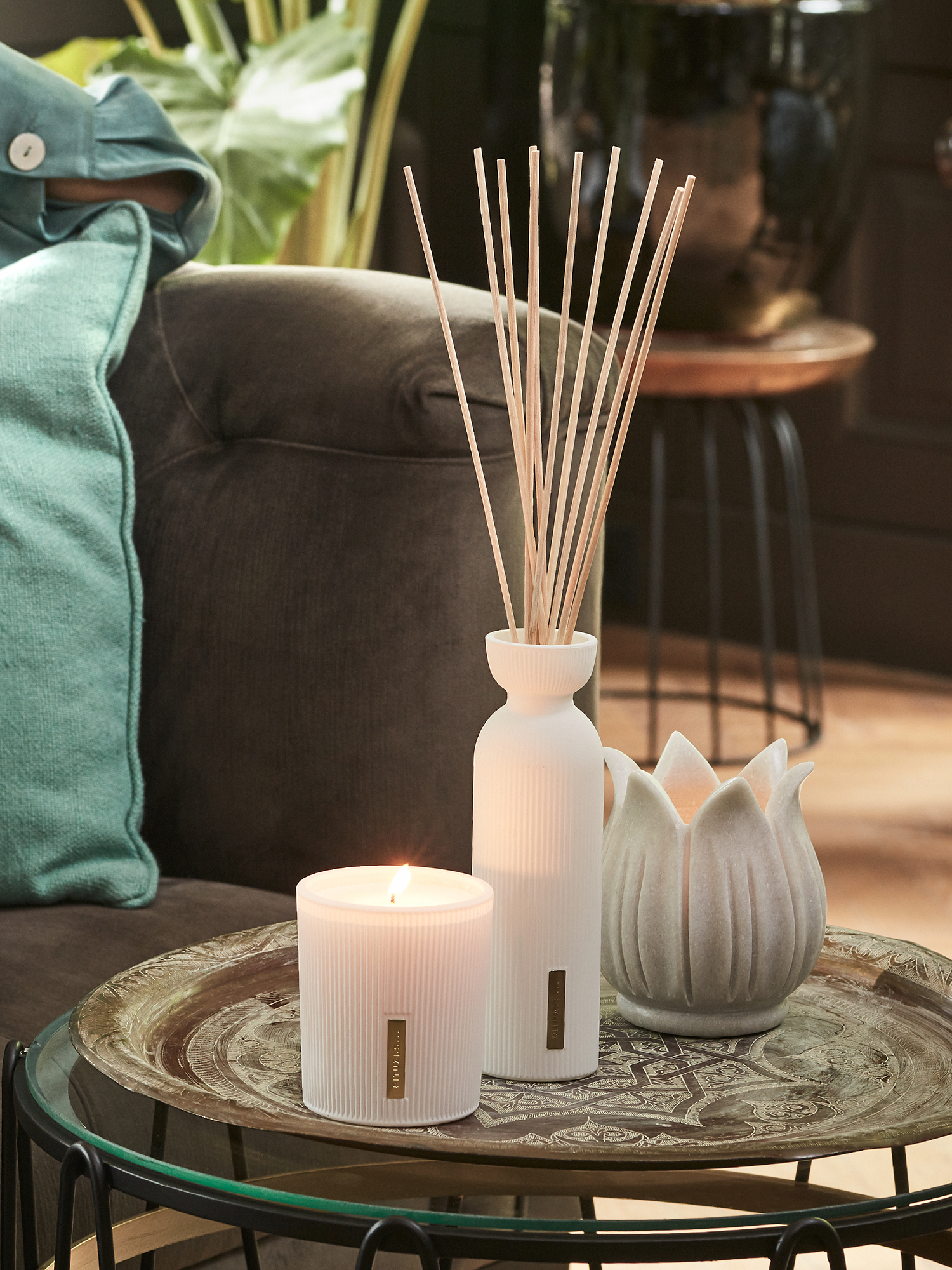 The fragile, transparent aroma of white tea with sacred lotus will make the atmosphere of your home incredibly sophisticated and sunny.
Rituals cosmetics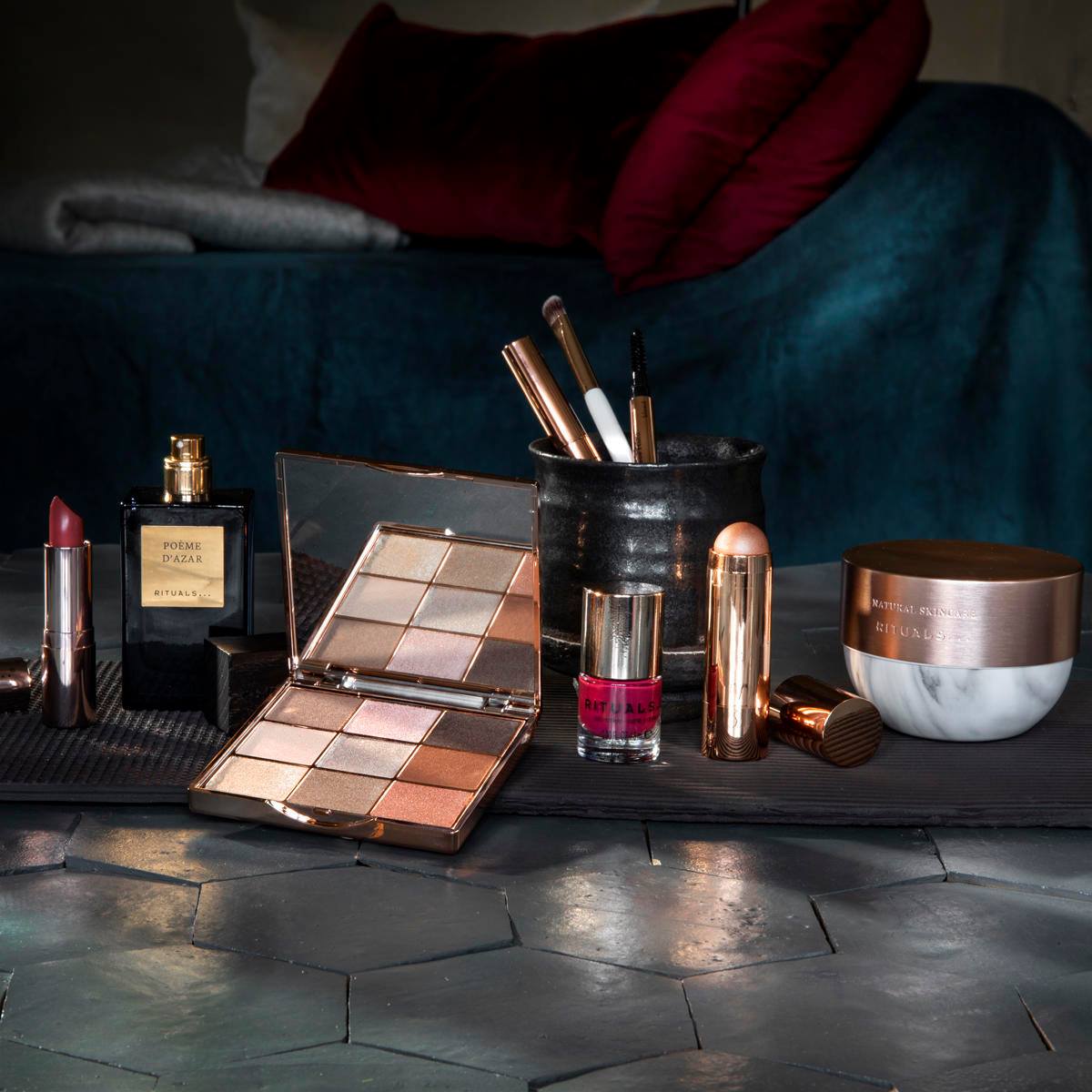 In addition to care cosmetics and home accessories, Rituals has launched a line of decorative cosmetics. Of course, no product of this brand is created for nothing, so makeup cosmetics were born based on rituals followed by perhaps the most influential woman in history - Cleopatra. The Ritual of Cleopatra incorporates the best of everything, from ingredients to textures, to help you feel like you're part of the times of ancient Egypt.
Rituals cosmetics for men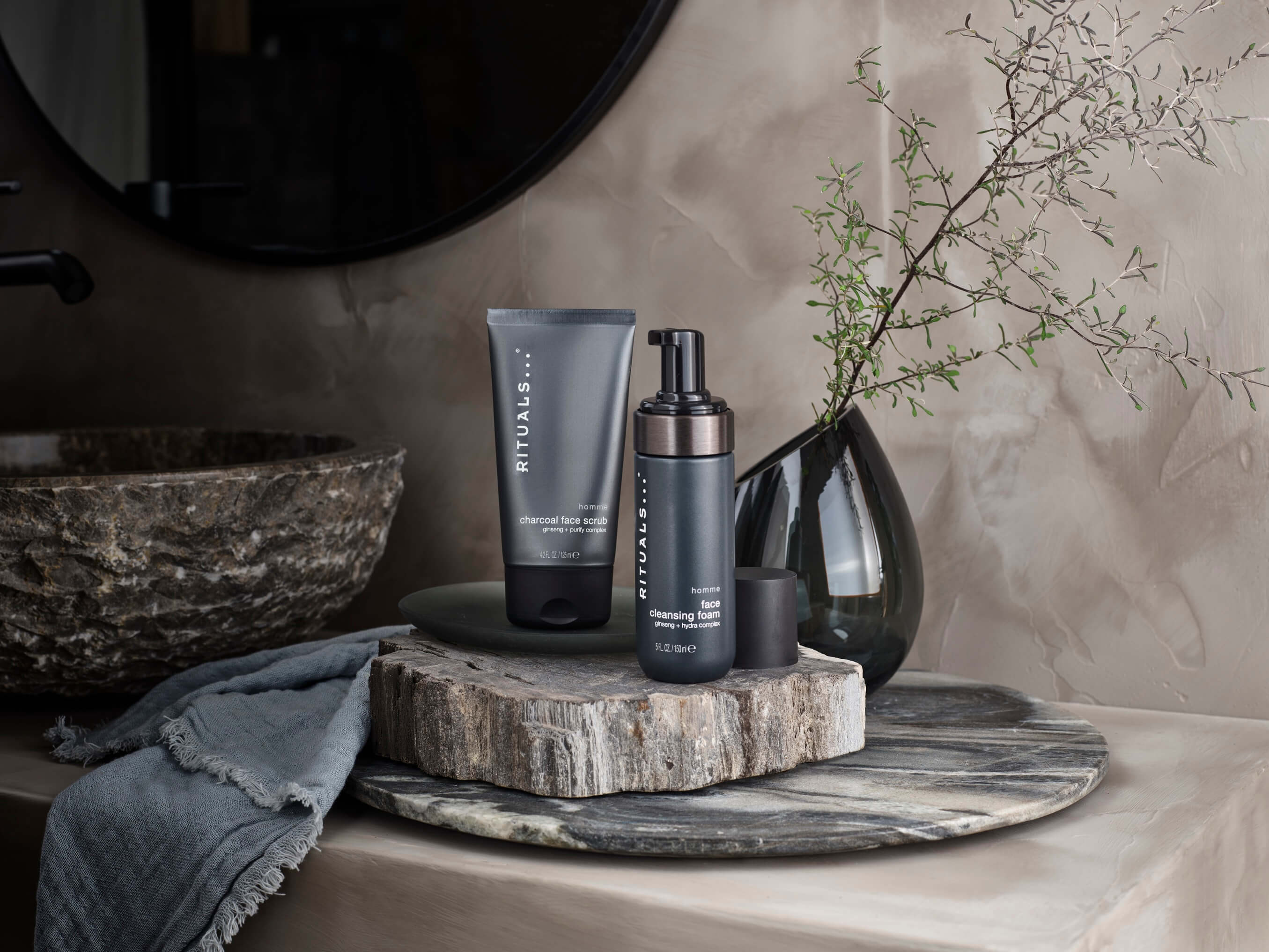 The line of men's cosmetics is designed to meet all the specific needs of men's skin. The combination of high-quality natural ingredients with the latest technologies and formulas has created incredible products for body, face, and beard care. This line also includes sets that can be the best gift for a friend, father, or loved one.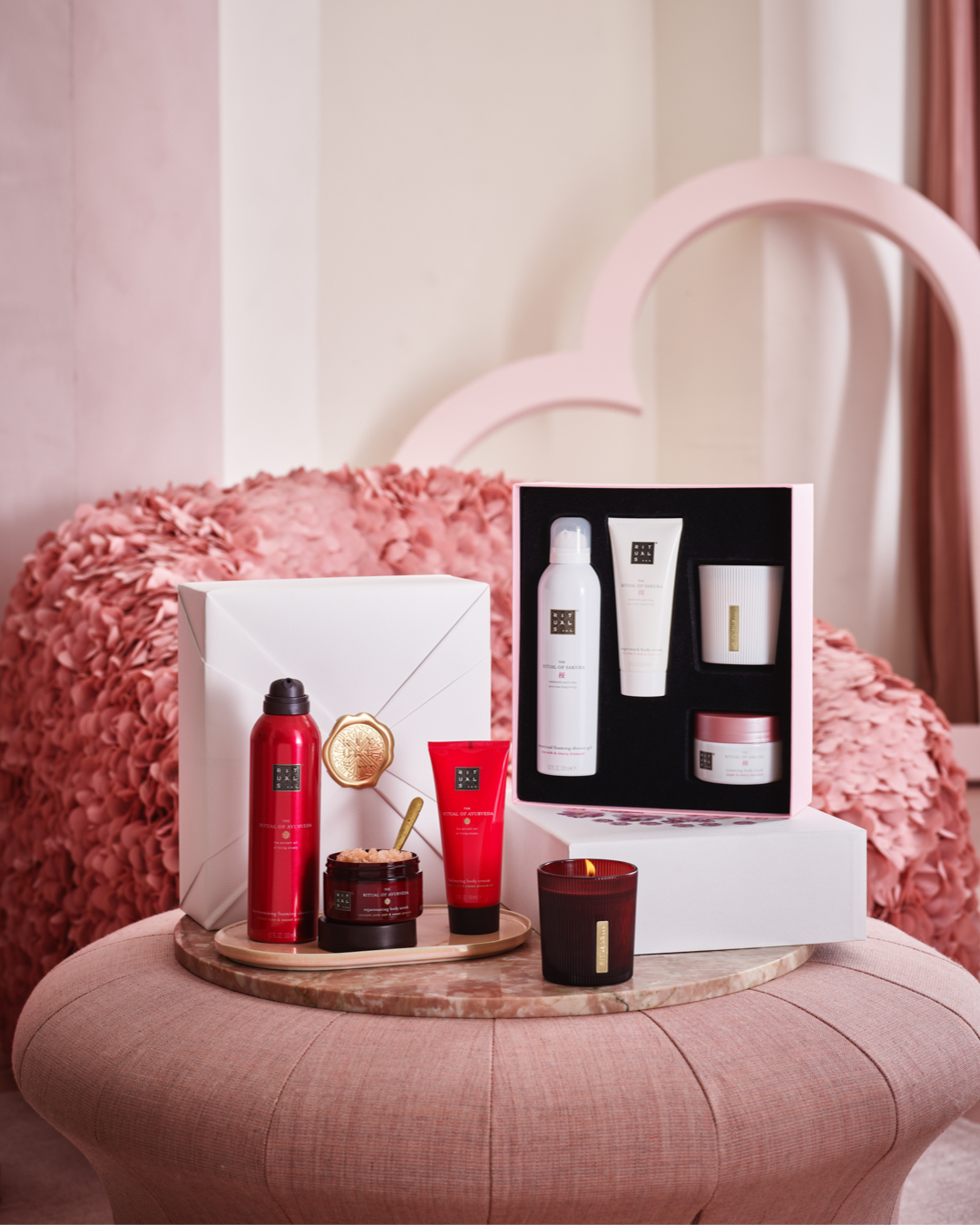 We, as a pre-order service in Duty-Free stores, of course, could not ignore the travel rituals sets. Everyone familiar with the brand's cosmetics will understand why travel kits are an incredible thing. After all, you want to carry out daily rituals wherever you are, so miniatures with Rituals products help a lot. You can be at home, visiting your girlfriend, on vacation at the seaside or ca ski resort, or on a business trip, but your ritual will always be with you!
We wish you wonderful rituals while traveling with MyDutyFree!